First impressions carry tremendous weight. What customers see on the outside creates anticipation for what they'll find on the inside.

By choosing to construct with log elements and timbers, your company is making a statement. With websites such as Fool.co.uk offering people advice on how they might improve their value of their homes, they're sure to recognise the worth of such a high quality and expertly designed construction. Not only are these structures eye-catching, but they can also make a business property appear professional and appealing to potential customers. You are creating an atmosphere that separates your business from your competitors. One that will dramatically appeal to your target consumer, and help them strongly identify with your brand.

Using logs as the focal point of your construction can create the image your company is looking for. One that will have a measurable impact on your customers -- and on your business.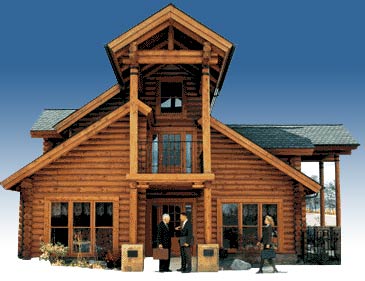 Foundation
Philospophy
Techniques
Results
---
Foundation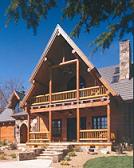 Like the structures we produce, every Jim Barna project begins with a strong foundation. With decades of experience in log construction, we know what works and what doesn't. We bring this knowledge to your project helping to keep costs low and results high.

At Jim Barna Log Systems, we also realize that commercial construction has different demands and requirements than home construction. That's why we've put together the best team in the industry and combined it with Fast-Track production to get your project completed on time and on budget. After all, the sooner your project is complete, the sooner your customers and employees can begin enjoying it.

The Team

Naturally, our log systems team is top notch. The team you'll work with at Jim Barna includes some of the most experienced professionals in the industry. They cover a wide variety of disciplines, including design, financing, construction, and operations management. It's a philosophy of putting all our best resources into your project to make your experience with us productive, successful and enjoyable.

Our Process

In business, time is money. That's why Jim Barna Log Systems offers Fast-Track project guidance that streamlines production. It's a company wide philosophy that ensures quick turn-around, from design to milling to final construction.

Consultation

Initial meetings are held to establish the parameters of your project, including budget, time, and other requirements.

Design: Our experts will work with you to create an appealing and practical design solution that melds the unique physical characteristics of logs with the requirements of your site and your project.

Production: We understand commercial construction. As one of the largest manufacturers of log systems in the U.S., we have the capacity and flexibility to meet a wide variety of diverse design, structural and material needs.

On-site Support: Whether providing a full log structure or timber accents, we provide technical support to help keep communication and your project moving the way it should.

A Note From Jim Barna

I began Jim Barna Log Systems with a simple idea: combine cutting-edge construction techniques with first-rate designs, and follow it up with world-class customer service. I'm proud to say that we are the industry leader in log structure manufacturing, and by working hard for you, we hope to stay that way. We look forward to working with your company and making your project everything you want it to be.

Philosophy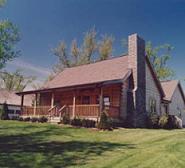 Whatever it takes to do the job right. That's the philosophy at Jim Barna Log Systems, and we stick to it. From a company-controlled trucking fleet that ensures on-time delivery to special protection of your construction materials, we take care of all the little details that add up to success for your project.

You see our attention to detail in the special preservative treatments for our wood that control mold, stain and mildew, in our wide selection of premium windows and doors, and in our custom trim and accent packages. You even see it in our variety of log construction techniques.

At Jim Barna, every project is unique and requires special attention. That's how we set the standard others follow.

Unparalleled Support

Word of mouth is extremely important at Jim Barna, so we make sure you are completely satisfied with your log system. To achieve this, we offer on-site and ongoing technical support to help your project go smoothly. And we feature unparalleled maintenance support to help you give your log system a long and healthy life. In addition, we offer the industry's best warranty on all our log systems. Ask your consultant for all the details.

Techniques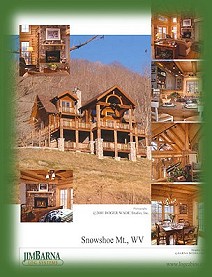 There are numerous techniques used for commercial applications, depending on your project. In some cases, full log construction can be used. For other applications, a mix of logs and conventional construction materials and techniques can be used.

In addition, Jim Barna Log Systems can enhance your existing structures with a solid log exterior. Or, we can add specialty timbers, milled logs or heavy timber accents to give your building that extra touch.

There are countless possibilities for your project, but in the end, there's only one result - a log system that meets your company's needs.

Retrofits

We take the ordinary and make it extraordinary. Why settle for an ordinary business facade, when you could have something special -- a building that attracts attention, and customers, on its own merit? Talk to your Jim Barna Log Systems consultant about retrofitting your existing structures with a log system exterior.

We Know Log Systems, Inside and Out

For every log system exterior we create, there's an interior waiting to be developed. Whether you want a smooth panel look, or rugged heavy timbers, we can help you find the perfect aesthetic. For projects that require conventional construction on the inside, we can add log siding or half logs to give that rustic quality you want.

From single floor cabanas to a 5-story condo, your project will look as good on the inside as it does on the outside with Jim Barna Log Systems.

Results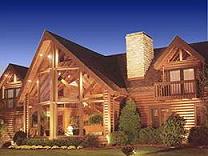 More than any other architectural style, log construction conveys a sense of stability that will draw customers to you. Creating the image your company wants is what Jim Barna Log Systems is all about. It's a philosophy of building your business by building your image. And no one does it better than Jim Barna Log Systems. We put together a team of experienced consultants you'll enjoy working with.

We offer a Fast-Track process that speeds your project to completion, on-time and on-budget. And we support our products and your project like no one else in the industry.

In short, we know commercial log systems. And we know how to leverage them to create the image your business is looking for. Call us today to discuss your project. We look forward to building a strong future for you and your company