Designing Your Own Log Home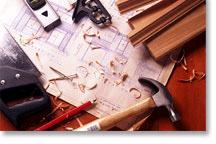 At Jim Barna, the first step is to find out what our customers perceive as their family's most cherished dreams and desires... and then work to fashion a design and blueprint that perfectly captures your idea of a uniquely special home. Our job is to help determine the design that will fulfill your objectives within the budget considerations you give us. How can Jim Barna make your log home, the one you see when you close your eyes, an affordable reality?
Preliminary "Needs Plan" Development
Based upon the objectives, budgets, and needs discovered during the initial design phase with the customer, a preliminary needs plan is developed and outlined that shows you what your house will look like and how it will flow. This "rough draft" usually prompts changes and modifications before the final draft is created.
Initial Budgets and Cost Estimates
At this stage of the process, you and our cost estimators look again at your objectives, preliminary needs plan, and budget. Revisions or modifications may come into play here as the estimate versus the budget is reviewed. Our goal is to give you the most accurate, detailed pricing for materials and services to help you make the right decisions.
Financial Plan and Cost Estimate
After initial cost projections are determined and revisions and modifications made in the design, our staff will review with you the final plans and cost estimates for your Jim Barna materials package and our associated services. At this time, you will have a finalized blueprint, with an understanding of the exact floorplan, the dimensions of your new house, and the material and dry-in labor costs.